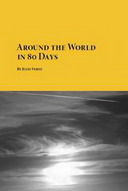 Classic novel, "Around the World in Eighty Days" by Jules Verne can be downloaded in pdf format for free from Planet eBook.
Book Description
Around the World in Eighty Days is a classic adventure novel by the French writer Jules Verne, first published in 1873. In the story, Phileas Fogg of London and his newly employed French valet Passepartout attempt to circumnavigate the world in 80 days on a £20,000 wager set by his friends at the Reform Club.
Book Details
Author(s): Jules Verne
Format(s): PDF (932 KB)
Number of pages: 279
Link:
Download.
Like This Post? Please Share!