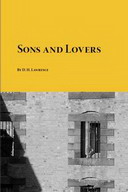 Classic novel, "Sons and Lovers" by D. H. Lawrence can be downloaded in pdf format for free from Planet eBook.
Book Description
The third published novel of D. H. Lawrence, taken by many to be his earliest masterpiece, tells the story of Paul Morel, a young man and a budding artist. Richard Aldington explains the semi-autobiographical nature of his masterpiece: 'When you have experienced Sons and Lovers you have lived through the agonies of the young Lawrence striving to win free from his old life'. Generally, it is not only considered as an evocative portrayal of working-class life in a mining community, but also an intense study of family, class and early sexual relationships.
The original 1913 edition was heavily edited by Edward Garnett who removed eighty passages, roughly a tenth of the text. The novel is dedicated to Garnett. Garnett, as the literary advisor to the publishing firm Duckworth, was an important figure in leading Lawrence further into the London literary world during the years 1911 and 1912. It was not until the 1992 Cambridge University Press edition was released that the missing text was restored. – http://en.wikipedia.org/wiki/Sons_and_Lovers
Book Details
Author(s): D. H. Lawrence
Format(s): PDF (1.97 MB)
Number of pages: 641
Link:
Download.
Like This Post? Please Share!