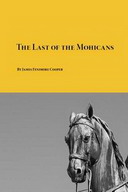 Classic novel, "The Last of the Mohicans", by James Fenimore Cooper can be downloaded in pdf format for free from Planet eBook.
Book Description
The Last of the Mohicans is a historical novel by James Fenimore Cooper, first published in January 1826.
It was one of the most popular English-language novels of its time, and helped establish Cooper as one of the first world-famous American writers. Its narrative flaws were criticized from the start, and its length and elaborately formal prose style have reduced its appeal to later readers. Regardless, The Last of the Mohicans remains on the syllabi of most American literature courses. This second book of the Leatherstocking Tales pentalogy is the best known. The Pathfinder, written 14 years later in 1840, is its sequel.
Book Details
Author(s): James Fenimore Cooper
Format(s): PDF (1.86 MB)
Number of pages: 599
Link:
Download.
Like This Post? Please Share!