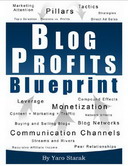 Free ebook, "Blog Profits Blueprint", by Yaro Starak teaches you various strategies to make money from your blog.
Book Description
What you are about to read is the result of three years of blogging and eight seven years of hands-on Internet business experience. This advice is unique because it comes from someone who knows BUSINESS as well as blogging and who has applied business principles to make money from blogs.
Contents
How To Make Money Blogging
Blogging as a Business
What Is A Blog And Why Are They So Popular?
How Blogs Make Money
Two Key Ingredients For Attracting Attention
How To Choose Your Blog Topic
Let's Talk Tactics
Content + Marketing = Traffic
How To Market Your Blog
Communication Channels
Traffic Tactics
Can Blogs Be A Stable Income Source?
The Holy Grail of Blog Monetization – Recursive Affiliate Income
The Problem with Google AdSense
Other Monetization Options
My Top Blog Monetization Methods
Turn our Blog Into A Business and Why Most Bloggers Fail.
Book Details
Author(s): Yaro Starak
Format(s): PDF (1.46 MB)
Number of pages: 54
Link:
Download
Like This Post? Please Share!