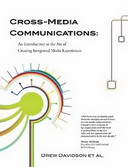 Free eBook: "Cross-Media Communications: An Introduction to the Art of Creating Integrated Media Experiences" by Drew Davidson in pdf format.
Book Description
This text is an introduction to the future of mass media and mass communications – cross-media communications. Cross-media is explained through the presentation and analysis of contemporary examples and project-based tutorials in cross-media development. The text introduces fundamental terms and concepts, and provides a solid overview of cross-media communications, one that builds from a general introduction to a specific examination of media and genres to a discussion of the concepts involved in designing and developing cross-media communications.
Contents
Terms & Process
History & Context
Textual Media
Electronic Media
Digital Media
Environmental Media
Entertainment & Art
Education & Training
Activism & Public Relations
Marketing & Advertising
Commentary & Critique
Transparency & Ubiquity
Ethics & Literacy
Book Details
Author(s): Drew Davidson
Format(s): PDF (26.61 MB)
Number of pages: 294
Link:
Download.
Like This Post? Please Share!