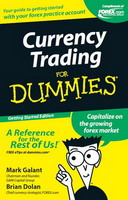 Free eBook "Currency Trading for Dummies – Getting Started Edition" from forex.com. This eBook, strips away the mystique of the forex market for smart, intelligent investors like you who know something about the potential of the forex market but don't have the foggiest how it actually works.
Book Description
Read this book and then, if you like what you've read, put your knowledge and intuition to the test by getting a practice trading account with an online forex brokerage before you put any actual money at risk.

It will help you get the most out of your practice account.
* Practical step by step action plan
* Learn the mechanics of forex trading
* Fundamental factors that drive currency markets
* How to develop a risk aware trading plan
Contents
Introduction
What Is the Forex Market?
The Mechanics of Currency Trading
Choosing Your Trading Style
Getting Started with Your Practice Account
Book Details
Author(s): Mark Galant and Brian Dolan.
Format(s): PDF (3.03 MB)
Number of pages: 52
Link:
Download.
Like This Post? Please Share!