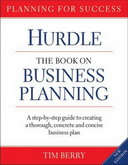 "Hurdle: The Book on Business Planning" by Tim Berry is now available online.
Book Description
The Hurdle book is Tim Berry's latest, a practical step-by-step guide to a business plan you can take to the bank and implement in your company. The Hurdle book includes a 53 page workbook to capture your information as you progress through your business plan.

Learn how to develop a complete business plan, with text, tables, and charts, in simple understandable steps. Learn how to understand business numbers. Everything you need, from profit and loss to cash flow to balance sheet and ratios, all laid out in simple terms and practical examples. Learn to Manage and Implement Your Plan

Includes concrete, detailed advice on how to actually manage and implement your plan. Also includes two sample plans, plan comparisons, as well as sections on starting your business, financing a business, and running your business.
Contents
Fundamentals
Tell Your Story
Gathering Information
Forecasting
Financial Analysis
Strategy and Tactics
Following Up
Book Details
Author(s): Tim Berry
Format(s): HTML
Number of pages: 314
Link:
Read online.
Like This Post? Please Share!