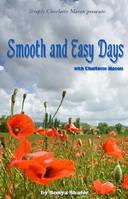 Get a burst of encouragement with good habits!. Free eBook "Smooth and Easy Days", with Charlotte Mason by Sonya Shafer. Download it in pdf format.
Book Description
We all want smooth and easy days in our homes. But how do we get them?

Charlotte Mason believed that the answer lay in developing good habits:
"The mother who takes pains to endow her children with good habits secures for herself smooth and easy days."

Join us as we take a look at the common-sense ideas and practical tips Charlotte gave
to help us moms secure those smooth and easy days.

These articles will help you

* Cultivate good habits in your child (and yourself).
* Discover why nagging doesn't work.
* Be encouraged about your own habits.
* Learn how to motivate your child.
* Think of good habits as a delight.

Plus you will receive timely Charlotte Mason quotes on habits and a complete list of the habits she recommended we work on!
Contents
Smooth and Easy Days
Habits Produce Character
One at a Time
Her Own Idea
Take the Same Route
Why Nagging Doesn't Work
Mom's Habits
Living Examples
Natural Consequences
Expectant Encouragement
A Good Habit Is a Delight
By Degrees
Habit Is Inevitable
Charlotte Mason Habits List
Book Details
Author(s): Sonya Shafer
Format(s): PDF (613 KB)
Number of pages: 47
Link:
Download.
Like This Post? Please Share!