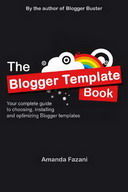 The Blogger Template Book: Your complete guide to choosing, installing and optimizing Blogger templates is a free 114 page eBook by Amanda Fazani.
Book Description
This eBook offers practical advice for your Blogger template requirements. From choosing a third party template through to customizing an existing design and beyond, this eBook is intended to help you make the most of your template and build a better blog with Google's Blogger platform.
Contents
Why use a non-standard template?
Template layouts and design styles
Template formats and installation
Advanced installation methods
Customize your Blogger template
Optimize your blog loading time
Optimize your template for search engines
Blogger Template Resources
Book Details
Author(s): Amanda Kennedy
Format(s): PDF (5.57 MB)
Number of pages: 115
Link:
Download.
Like This Post? Please Share!