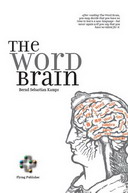 Free eBook "The Word Brain – A Short Guide to Fast Language Learning" by Bernd Sebastian Kamps.
Book Description
How long does it take to learn another language? How many words do we need to learn? Are languages within the reach of everybody? Which teachers should we avoid?

These are some of the questions you ask yourself when you or your children start to learn a new language. The Word Brain, by BSK, provides the answers.

Language surrounds us when we are infants, language is the predominant mode of expression at school and university, and, now that we are adults, new languages are everywhere. In a globalised world – whether we like it or not – we live in an environment of multiple languages. Modern times are polyglot times, and 'monoglot' individuals begin to realise that speaking just one language can be disadvantageous. They start asking themselves how long it takes to learn another language and if languages are within the reach of everybody. Typically, they also want to know how to choose good teachers and how to avoid bad teachers. The Word Brain answers these questions.
Contents
Words
Listening
Reading
Teachers
Speaking
Memory
Nailing
Book Details
Author(s): Bernd Sebastian Kamps
Format(s): PDF (1.91 MB)
Number of pages: 77
Link:
Download.
Like This Post? Please Share!