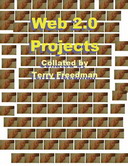 The purpose of this booklet is to give you some practical ideas about the kinds of things you can do with Web 2.0 technology.
Book Description
Please note: this was not intended to be a compilation of projects using cutting edge applications. I simply invited teachers to share what they have been doing.
Contents
Introduction
Benefits of Web 2.0
Challenges of introducing Web 2.0 applications into school
Applications mentioned in this book
Guide to the educational terminology used in this book
Guide to the projects by subject
Extending My Language Classroom Walls
Cook It, Taste It, ICT IT
CSI Twitter
Greetings From The World
Gartree-Haps School Partnership
TECHnically Yours
Planetfesto
Around The World with 80 Schools
The Turkey and Germany Digital Connection
Schoolovision 2009
Virtual Balloon Race
Little Red Riding Hood Video Project
Blog as Online Portfolio
Life Where We Live
….etc
Book Details
Author(s): Terry Freedman
Format(s): PDF (1.86 MB)
Number of pages: 121
Link:
Download.
Like This Post? Please Share!