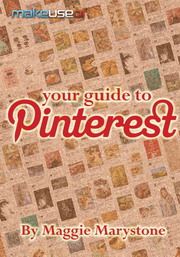 Get the most out of Pinterest. Download "Your Guide To Pinterest", by Maggie Marystone, from MakeUseOf.com.
Book Description
This amazing guide outlines:
What people use Pinterest for, and how you could use it yourself
Creating an account and getting started with Pinterest
Learning the language of Pinterest, from Pin to Board to Like
Creating and maintaining your Pinterest boards
How to pin, including proper etiquette
Using Pinterest to collaborate
Integrating your Pinterest account with other services
Contents
Introduction

Creating a Pinterest account

The Language of Pinterest

Pinterest Home page

Your Pinterest profile

Your Pinterest Boards

Creating a pin

Exploring Pinterest

Collaborating on Pinterest

Mobile Pinterest
Book Details:
Author(s): Maggie Marystone
Format(s): PDF (7.70 MB)
Number of pages: 27
Link:
Download
| Password: makeuseof
Like This Post? Please Share!