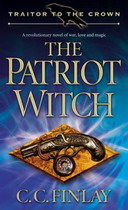 C.C. Finlay is giving away the first book The Patriot Witch of Traitor to the Crown trilogy months before the release date. You can download it in pdf format from his website.
Book Description
The year is 1775. On the surface, Proctor Brown appears to be an ordinary young man working the family farm in New England. He is a minuteman, a member of the local militia, determined to defend the rights of the colonies. Yet Proctor is so much more. Magic is in his blood, a dark secret passed down from generation to generation. But Proctor's mother has taught him to hide his talents, lest he be labeled a witch and find himself dangling at the end of a rope.

A chance encounter with an arrogant British officer bearing magic of his own catapults Proctor out of his comfortable existence and into the adventure of a lifetime, as resistance sparks rebellion and rebellion becomes revolution. Now, even as he fights alongside his fellow patriots from Lexington to Bunker Hill, Proctor finds himself enmeshed in a war of a different sort–a secret war of magic against magic, witch against witch, with the stakes not only the independence of a young nation but the future of humanity itself.
Book Details
Author(s): C.C. Finlay
Format(s): PDF (1.27 MB)
Number of pages: 345
Link:
Download.
Like This Post? Please Share!