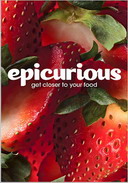 Download "10 Perfect Recipes From Epicurious.com" from Sony eBook Store for free. Free Sony eBook Library Software is required to download this free eBook.
Book Description
These 10 inaugural recipes from Epicurious.com, the premier, award-winning food Web site, aim to nourish bodies, satiate cravings, and comfort souls. With a recipe database that incorporates more than 25,000 professionally tested recipes, 75,000 member-submitted recipes, and Web-exclusive original content from Epicurious.com editors and leading food experts around the world, Epicurious.com is the authority on all things culinary.

So whether you're yearning for prawns from South Africa, all-American barbecued beef ribs, or a simple salad made with pears, arugula, and pancetta, Epicurious.com is your recipe source.
Book Details
Author(s): Epicurious
Format(s): Sony Reader (403.29 KB)
Link:
Download.
Like This Post? Please Share!