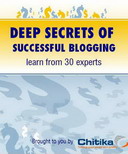 30 expert bloggers write about an array of wide-ranging topics, from "Dare to be Odd" and "Shopping and Blogging: How to make the marriage work", to "Help me! My mom is my blogs only reader!" and many more.
Contents
Ten Secrets of an Earlier Adopter Tech Entrepreneur By Chris Pirillo
Crossing the Chasm to going as a full time blogger By Liew Cheon Fong
Sell Without Selling By Rosalind Gardner
Create.Promote.Track.Optimize By Allen Stern
Dare to Be Eccentric By The Manolo
Crunching Numbers For Blog Success By Tim Flight
Making the Leap: Going from the Single Blog to the Blogpire By Jay Brewer
The alchemy of Blogging By David Ponce
Get More Out of Conferences and Networking Events By Chris Brogan
Blogs and Widgets By Scott Jangro
Diversifying Your Revenue with Chitika By Joel Comm
Ten lessons for an aspiring professional blogger By Andy Merrett
Blogging and Shopping – How to Make the Marriage Work By Manfred Luigi
Confessions of a Small-Time Blogger By Prashanth
Driving traffic using Del.icio.us By Neil Patel
Synergy between SEO and Traditional Marketing By Aaron Wall
Chemistry behind converting one time visitor into a loyal reader By Thilak Raj Rao
Quality Vs. Quantity By Julie Strietelmeier
Holistic Content Optimization By Lee Odden
7 Ways to Make your Content Search Engine Friendly By Daniel Scocco
Staying connected: The secret to keeping those loyal readers By Liz Strauss
Give Your Blog An Edge Get the Scoop! By Tom Foremski
Finding Your Direction with Google Analytics By Dan Allen
Help me my mom is my blog s only reader! By Darren Rowse
What is at the Heart of a Powerful Blog By Wendy Piersall
Advertising in the blogosphere By Chris Batty
Building and Engaging Community Around Your Blog By C.C. Chapman
What is this thing called a blog anyway A Perspective from India By Keith Dsouza
Blog to Blog Inc. -Turning a Cup of Coffee a Day into Millions By Jeremy Wright
A positive response to negative word of mouth By Andy Sernovitz
Book Details
Author(s): Chitika, Inc.
Format(s): PDF (2.87 MB)
Number of pages: 76
Link:
Download
Like This Post? Please Share!