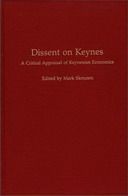 You can download this 264 page eBook "Dissent on Keynes: A Critical Appraisal of Keynesian Economics" by Mark Skousen from Mises Institute for free.
Book Description
Keynesian economics is not dead–it's alive and kicking in the U.S. and elsewhere. However, Keynesian economics has caused the U.S. and other countries under its influence to suffer inflation, economic instability, excessive debt, overconsumption, and underinvestment on a serious scale. Meanwhile, many Far Eastern and European countries have rejected Keynesian-style economics and are rapidly surpassing the U.S. in economic growth. This edited volume is the first and only modern work to attack Keynesian economic theory, which is at the root of many of the U.S. economic problems.
Book Details
Author(s): Mark Skousen
Format(s): PDF (16.90 MB)
Number of pages: 264
Link:
Download.
Like This Post? Please Share!