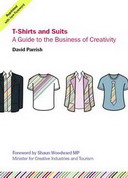 This free business ebook is intended to be both inspiring and practical, to offer some great ideas for building creative businesses, yet at the same time warn that it's not easy.
Book Description
It is for startups and established enterprises, large and small. It aims to be readable as a whole and also useful to refer back to, section by section.

It is designed for creative entrepreneurs and people managing creative businesses and cultural organisations. This free business eBook is one of the few publications written especially for people in the creative industries and cultural industries. It offers business ideas on marketing, intellectual property, leadership, organisational structures, business strategy, and more – written especially for creative entrepreneurs and creative enterprises.
Book Details
Author(s): David Parrish
Format(s): PDF (1.93 MB)
Number of pages: 117
Link:
Download.
Like This Post? Please Share!