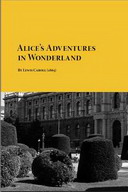 Classic novel, "Alice's Adventures in Wonderland", by Lewis Carroll can be downloaded in pdf format for free from Planet eBook.
Book Description
Alice's Adventures in Wonderland (1865) is a surreal work of literary nonsense written by English author Charles Lutwidge Dodgson under the pseudonym Lewis Carroll, considered a classic example of the genre and of English literature in general.It tells the story of a girl named Alice who falls down a rabbit-hole into a fantastic realm populated by peculiar and anthropomorphic creatures.
The tale is filled with allusions to Dodgson's friends (and enemies), and to the lessons that British schoolchildren were expected to memorize. The tale plays with logic in ways that have made the story of lasting popularity with adults as well as children. It is considered to be one of the most characteristic examples of the genre of literary nonsense, and its narrative course and structure has been enormously influential, mainly in the fantasy genre.
The book is commonly referred to by the abbreviated title Alice in Wonderland, an alternative title popularized by the numerous stage, film and television adaptations of the story produced over the years. Some printings of this title contain both Alice's Adventures in Wonderland and its sequel Through the Looking-Glass, and What Alice Found There.
Book Details
Author(s): Lewis Carroll
Format(s): PDF (588 KB)
Number of pages: 111
Link:
Download.
Like This Post? Please Share!