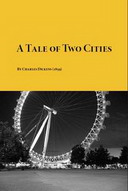 Classic novel, "A Tale of Two Cities", by Charles Dickens can be downloaded in pdf format for free from Planet eBook.

Book Description
A Tale of Two Cities (1859) is the second historical novel by Charles Dickens. The novel is an atypical one for Dickens: it is shorter and more tightly plotted, and features less humour. Its central themes are a Christianized vision of resurrection, and a terror of the irrational and savage mob.
The novel is rarely considered one of Dickens's best, but it is one of his most popular. "Critics complained on publication of [the novel's] lack of humour, but it later achieved wide popularity, partly through successful dramatizations and film adaptations.It is Dickens's most widely-taught novel in American high schools.
Book Details
Author(s): Charles Dickens
Format(s): PDF (1.65 MB)
Number of pages: 269
Link:
Download.
Like This Post? Please Share!