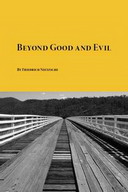 "Beyond Good and Evil" by Friedrich Nietzsche can be downloaded in pdf format for free from Planet eBook.
Book Description
Beyond Good and Evil is a book by the German philosopher Friedrich Nietzsche, first published in 1886.

It takes up and expands on the ideas of his previous work, Thus Spoke Zarathustra, replacing that work's sunny and life-affirming character with a highly critical, polemical approach.

In Beyond Good and Evil, Nietzsche attacks past philosophers for their alleged lack of critical sense and their blind acceptance of Christian premises in their consideration of morality. The work moves into the realm "beyond good and evil" in the sense of leaving behind the traditional morality which Nietzsche subjects to a destructive critique in favour of what he regards as an affirmative approach that fearlessly confronts the perspectival nature of knowledge and the perilous condition of the modern individual.
Book Details
Author(s): Friedrich Nietzsche
Format(s): PDF (978 KB)
Number of pages: 250
Link:
Download.
Like This Post? Please Share!