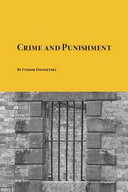 Classic novel, "Crime and Punishment", by Fyodor Dostoevsky can be downloaded in pdf format for free from Planet eBook.

Book Description
Crime and Punishment is a novel by Russian author Fyodor Dostoevsky that was first published in the literary journal The Russian Messenger in twelve monthly installments in 1866,and was later published in a single volume.
Crime and Punishment focuses on the mental anguish and moral dilemmas of Rodion Romanovich Raskolnikov, an impoverished St. Petersburg ex-student who formulates and executes a plan to kill a hated, unscrupulous pawnbroker seemingly for her money, thereby solving his financial problems and at the same time, he argues, ridding the world of an evil worthless parasite. Raskolnikov also strives to be an extraordinary being, similar to Napoleon, who can murder without repercussions.
Book Details
Author(s): Fyodor Dostoevsky
Format(s): PDF (2.06 MB)
Number of pages: 384
Link:
Download.
Like This Post? Please Share!