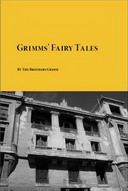 Classic novel, "Grimms' Fairy Tales", by Brothers Grimm can be downloaded in pdf format for free from Planet eBook.
Book Description
Children's and Household Tales is a collection of German origin fairy tales first published in 1812 by Jacob and Wilhelm Grimm, the Brothers Grimm. The collection is commonly known today as Grimms' Fairy Tales.

A shepherd had a faithful dog, called Sultan, who was grown very old, and had lost all his teeth. And one day when the shepherd and his wife were standing together before the house the shepherd said, 'I will shoot old Sultan tomorrow morning, for he is of no use now.' But his wife said, 'Pray let the poor faithful creature live; he has served us well a great many years, and we ought to give him a livelihood for the rest of his days.' 'But what can we do with him?' said the shepherd, 'he has not a tooth in his head, and the thieves don't care for him at all; to be sure he has served us, but then he did it to earn his livelihood; tomorrow shall be his last day, depend upon it.'
Book Details
Author(s): Brothers Grimm
Format(s): PDF (1.03 MB )
Number of pages: 187
Link:
Download.
Like This Post? Please Share!