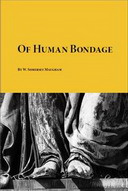 Classic novel, "Of Human Bondage", by William Somerset Maugham can be downloaded in pdf format for free from Planet eBook.
Book Description
Of Human Bondage (1915) is a novel by William Somerset Maugham. It is generally agreed to be his masterpiece and to be strongly autobiographical in nature, although Maugham stated in a signed inscription: "This is a novel, not an autobiography, though much in it is autobiographical, more is pure invention." The novel is considered a classic.
Book Details
Author(s): W. Somerset Maugham
Format(s): PDF (2.97 MB)
Number of pages: 1009
Link:
Download.
Like This Post? Please Share!