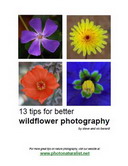 Free eBook: "13 Tips for Better Wildflower Photography" by Steve and Vic berardi.
Book Description
Steve Berardi is a naturalist, photographer, software engineer, and founder of PhotoNaturalist. It was time to update this free ebook on wildflower photography. The original version was released about three years ago, so it was due for an update. Most of the content is the same, but I've learned a lot in the last three years, so I've updated just about every page in the book, and replaced a few tips with newer articles.
Contents
How to identify wildflowers
The secret to getting perfect light
What to do if you can't wait for perfect light
How to get a proper exposure
How to position your camera
How to get sharper photos
How to get a perfect background
How to battle the wind
How to compose landscapes with wildflowers
How to get butterflies in your photos
Why it's important to "leave no trace"
How to sharpen your photos in Photoshop
How to darken a background in Photoshop
Book Details
Author(s): Steve Berardi
Format(s): PDF (5.09 MB)
Number of pages: 20
Link:
Download.
Like This Post? Please Share!