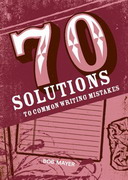 "70 Solutions to Common Writing Mistakes" shows you how to sidestep the gaffes that plague writers at every stage of the process. From developing good habits to shaping a raw idea to writing and editing a new piece, New York Times best-selling novelist Bob Mayer gives you the guidance you need to build momentum on any project and produce a polished final draft.
About the author
NY Times bestselling author Bob Mayer has 40 books published. He has over three million books in print and is in demand as a team-building, life-change, and leadership speaker and consultant. Bob graduated from West Point and served in the military as a Special Forces A-Team leader and a teacher at the JFK Special Warfare Center & School. His latest book is Who Dares Wins: The Green Beret Way to Conquer Fear & Succeed. He teaches novel writing and improving the author via his Write It Forward program. He lives in Airborne Country
Book Details:
Author(s): Bob Mayer
Format(s): PDF (7.66 MB)
Number of pages: 65
Link:
Download.
Like This Post? Please Share!