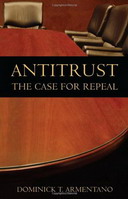 Free eBook "Antitrust: The Case for Repeal" by Dominick T Armentano.
Book Description
This tour de force rips the intellectual cover off antitrust regulation to reveal it as a bludgeon used by businesses against their competitors. Unlike many critics, Professor Armentano carries the logic of his analysis to the fullest possible extent: "My position on antitrust has never been ambiguous," he writes. "All of the antitrust laws and all of the enforcement agency authority should be summarily repealed. The antitrust apparatus cannot be reformed; it must be abolished."

Professor Armentano begins with the most rigorous and revealing account of the Microsoft antitrust battle to appear in print. He further discusses other recent cases, including Toys 'R' Us, Staples, and Intel, as well as many historical cases. He covers nearly every conceivable rationale for antitrust, including price fixing, predatory pricing, product tie-ins, vertical and horizontal mergers, and many more.
Contents
The Antitrust Assault on Microsoft
The Case Against Antitrust Policy
Competition and Monopoly: Theory and Evidence
Barriers to Entry
Price Discrimination and Vertical Agreements
Horizontal Agreements: Mergers and Price Fixing
Antitrust Policy in a Free Society
Book Details
Author(s): Dominick Armentano
Format(s): PDF, ePub
File size: 6.70 MB
Number of pages: 130
Link:
Download
Like This Post? Please Share!