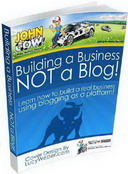 Free 134 page eBook on making money online by johncow.
Book Description
You see there is a gigantic difference between building blogs and building a business. In all honesty anyone can build a blog, there are loads of free services out there that make it completely free to jump online and start writing. This however is not the way to go about truly making money online for the long term.
Contents
Learn Exactly How To Make Money Online using WordPress Blogs
See First Hand How to Uncover Incredible Niche Markets that are Already Proven Money Makers
Learn How to Set up Your Blog so Both the Search Engines and "Real" People will Absolutely Love it
Create "Content with Purpose" That Will Have Your Readers Doing Exactly What You Want Them To
Create a Viral Link Building Strategy that will Skyrocket Your Blog Like You Never Thought Possible
Dominate the Search Engines Faster Then You Thought Possible
Book Details
Author(s): John Cow
Format(s): PDF (1.73 MB)
Number of pages: 134
Link:
Download.
Like This Post? Please Share!