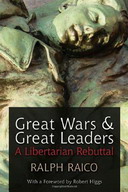 Free eBook "Great Wars and Great Leaders" by Ralph Raico.
Book Description
The great historian of classical liberalism strips away the veneer of exalted leaders and beloved wars. Professor Ralph Raico shows them to be wolves in sheep's clothing and their wars as attacks on human liberty and human rights.

In the backdrop of this blistering and deeply insightful and scholarly history is the whitewashing of "great leaders" like Woodrow Wilson, Winston Churchill, FDR, Truman, Stalin, Trotsky, and other collectivists. They are highly regarded because they were on the "right side" of the rise of the state. But do they deserve adulation? Raico says no: these great leaders were main agents in the decline of civilization in the 20th century, all of them anti-liberals who used their power to celebrate and enhance state power.
Contents
Introduction
World War I: The Turning Point
Rethinking Churchill
Harry S. Truman: Advancing the Revolution
Marxist Dreams and Soviet Realities
Nazifying the Germans
Trotsky: The Ignorance and the Evil
The Two "Testaments" of American Foreign Policy
The Other Ward that Never Ends
Starving a People into Submission
John T. Flynn and the Apotheosis of Franklin Roosevelt
On the Brink of World War II
The Great World Retold
Book Details
Author(s): Ralph Raico
Format(s): PDF, ePub
File size: 1.57 MB
Number of pages: 265
Link:
Download
Like This Post? Please Share!