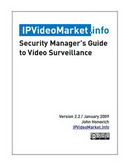 Download free eBook "Security Manager's Guide to Video Surveillance" from IPVideoMarket.Info.
Book Description
This book is designed for the security manager who uses video surveillance/CCTV systems. You should be able to understand this book if you have used a DVR system. The book's goal is to help you make better decisions about evaluating and selecting video surveillance systems.
Contents
How to Design Video Surveillance Solutions
Introduction to NVRs / IP Video Software
Introduction to Video CODECs
Bandwidth Basics for Video Surveillance
Examining Video Analytics
Wireless Video Surveillance Tutorial
API and System Integration Tutorial
How to Integrate Video With Other Systems
Directory of On-Line Video Surveillance Tutorials
Will Security Integrators Survive?
Should I Use IP Cameras?
Value of Hybrid DVRs/NVRs
Examining 'Open' Systems
The Danger of Buying Packages
Is Public CCTV Effective?
How to Read Marketing Material
How to Evaluate New Technology
How to Calculate Video Surveillance ROIs
Book Details
Author(s): John Honovich
Format(s): PDF (587 KB)
Number of pages: 102
Link:
Download.
Like This Post? Please Share!