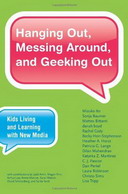 Free eBook "Hanging Out, Messing Around, and Geeking Out: Kids Living and Learning with New Media " by Digital Youth Project.
Book Description
Integrating twenty-three different case studies—which include Harry Potter podcasting, video-game playing, music-sharing, and online romantic breakups—in a unique collaborative authorship style, Hanging Out, Messing Around, and Geeking Out is distinctive for its combination of in-depth description of specific group dynamics with conceptual analysis.

This book was written as a collaborative effort by members of the Digital Youth Project, a three-year research effort funded by the John D. and Catherine T. MacArthur Foundation and conducted at the University of California, Berkeley, and the University of Southern California.
Contents
Media ecologies
Friendship
Intimacy
Families
Gaming
Creative production
Work
Book Details
Author(s): Various authors.
Format(s): PDF
File size: 2.23 MB
Number of pages: 432
Link:
Download
Like This Post? Please Share!