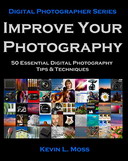 Improve Your Photography: 50 Essential Digital Photography Tips & Techniques, a free ebook by Kevin L. Moss.
Book Description
Improve Your Photography is a collection of 50 essential digital photography tips on digital photography and your digital camera from photographer and author Kevin L. Moss techniques from digital photography author and instructor, Kevin L. Moss. Known for his easy to understand style, Kevin proceeds to describe individual techniques that will help you become a better photographer. Some tips are obvious, while other techniques are in the category of "why didn't I think of that?".
Contents
Shoot With a Fixed 50mm F/1.8
Get To Know Your Digital Camera
Carry a Camera Wherever You Go
Photograph an Art Show
Getting Images From Camera to Computer
Manage Your Image Library
Hold An Exhibit
Cool Abstract Art with Extreme Cropping
Making Power Lines Disappear
Take A Photo Trip!
Shoot in Color, Convert to Black and White Later
Invest in Good Lenses
Use a Color Management Workflow
Explaining Color Modes in Photoshop
Shoot the Sky
Explaining 8 and 16 Bit Modes
Use the Gradient Tool For a Colorful Sky
Understanding Layers
Get Up Early and Shoot the Sunrise
Shooting and Stitching Panoramas
Essential Tools from the Toolbox
Photographing Waterfalls
Photographing Fall Color
Even Though its Digital, You Still Have To Start Out with Pristine Images
Understanding File Formats
Image Size Explained
Setting the Proper ISO
Understanding White Balance
Using the Histogram For Better Exposure
Shooting in Aperture Priority Mode
Look No Further Than Your Own Back Yard
Explore Self Publishing
Understanding Image Size and Aspect Ratio
Shooting The Skyline
Using Blur as an Element of Composition
Explore the World of Infrared (IR)
Great Pro Results With Simple Indoor Studio Lighting
The Thin Black Line
Abstract Studies With The Liquify Filter
Follow the Rules of Composition – And Occasionally Break Them
Improve Composition
Discover High Dynamic Range (HDR) Images
Book Details
Author(s): Kevin L. Moss
Format(s): PDF (6.87 MB)
Number of pages: 131
Link:
Download.
Like This Post? Please Share!