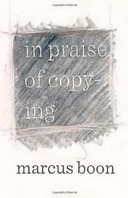 Free eBook "In Praise of Copying" by Marcus Boon from Harvard University Press.
Book Description
This book is devoted to a deceptively simple but original argument: that copying is an essential part of being human, that the ability to copy is worthy of celebration, and that, without recognizing how integral copying is to being human, we cannot understand ourselves or the world we live in.
Contents
What Is a Copy?
Copia, or, The Abundant Style
Copying as Transformation
Copying as Deception
Montage
The Mass Production of Copies
Copying as Appropriation
Book Details
Author(s): Marcus Boon
Format(s): PDF (982 KB)
Number of pages: 304
Link:
Download.
Like This Post? Please Share!