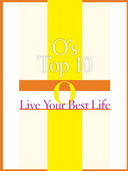 The editors of O, the Oprah Magazine are giving away Oprah's Top Ten "Live Your Best Life Tips", as a free download for Amazon.com customers.
Book Description
Be what you are. Give
what is yours to give.
Have style. Dare.
—Stanley Kunitz, from "Journal for My Daughter"

In fact, the ability to start out upon your own impulse is fundamental to the gift of keeping going upon your own terms,
not to mention the further and more fulfi lling gift of getting started all over again—never resting upon the oars of
success or in the doldrums of disappointment.… Getting started, keeping going, getting started again—in art and in life,
it seems to me this is the essential rhythm.… —Seamus Heaney
Book Details
Author(s): Oprah Magazine
Format(s): PDF (1.74 MB)
Number of pages: 11
Link:
Download.
Like This Post? Please Share!