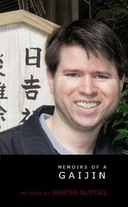 Free eBook Memoirs Of A Gaijin by Hunter Nattall can be downloaded in pdf format.
Book Description
"Gaijin" is a Japanese word meaning "outsider." It often refers specifically to a white person, and is now considered politically incorrect. But it's certainly what I was. From April 15 – 24, 2008, I visited my American friends who were spending a year in Kyoto. I'll call them Jim and Judy. I learned a lot during my stay, and I felt compelled to read some books to learn even more. Japan is a fascinating country, and certainly very different from the United States.
I wrote this ebook to tell a story of Japan as seen through the eyes of an American tourist. As such, it is based more on my own experiences and observations than on detailed research and an intimate understanding of Japan.
Book Details
Author(s): Hunter Nattall
Format(s): PDF (5.81 MB)
Number of pages: 75
Link:
Download.
Like This Post? Please Share!