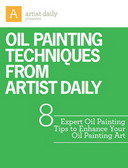 Free eBook "Oil Painting Techniques: 8 Expert Oil Painting Tips to Enhance Your Oil Painting Art" from Artist Daily.
Book Description
Learn from a renowned oil painting artist with this free eBook. If you have been in search of free instructions on oil painting techniques, Artist Daily has you covered! These 8 expert oil painting tips will help you enhance your oil painting art, giving you the tools to express your oil art with taste without limiting your artistic expression. Discover proven tips to improve your oil painting.
Book Details
Author(s): Artist Daily
Format(s): PDF
File size: 4.49 MB
Number of pages: 8
Link:
Download.
Like This Post? Please Share!