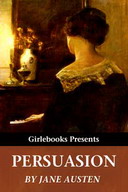 Free eBook "Persuasion" by Jane Austen is available in Adobe Reader PDF, ePub, eReader PDB, Microsoft Reader LIT, Mobipocket/Kindle PRC and plain text formats.
Book Description
Persuasion is Jane Austen's last novel, published posthumously in 1818. The story follows 27-year-old Anne Eliot, who is much older than the central characters in Austen's other books. Having fallen in love with and persuaded to reject a poor naval officer 8 years ago, Anne re-encounters him as a wealthy captain. She is then forced to deal with her regret for past actions and growing jealousy as he courts another woman.
Book Details
Author(s): Jane Austen
Format(s): PDF (1.45 MB), ePub, PDB, PRC, Lit
Number of pages: 325
Link:
Download.
Like This Post? Please Share!