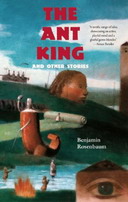 Free eBook "The Ant King: and Other Stories" can be downloaded in multiple formats.
Book Description
A dazzling, postmodern debut collection of pulp and surreal fictions: a writer of alternate histories defends his patron's zeppelin against assassins and pirates; a woman transforms into hundreds of gumballs; an emancipated children's collective goes house hunting.
Book Details
Author(s): Benjamin Rosenbaum
Format(s): HTML, Text, RTF, Mobipocket, plucker, PDF (715.06 KB)
Number of pages: 252
Link:
Download.
Like This Post? Please Share!