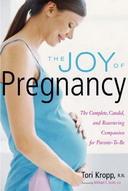 For a limited time, "The Joy of Pregnancy: The Complete, Candid, and Reassuring Companion for Parents-to-Be" by Tori Kropp will be available as a free eBook.
Book Description
You will find this book to be the most informative, reassuring, and useful pregnancy resource available. Create a free account at Zinio to receive your free eBook.
Congratulations—you're pregnant! During the excitement of the coming months, you'll have a lot of questions: What should I eat? How much should I exercise? How do I plan for the birth? What will labor and delivery be like?
As a perinatal nurse and childbirth educator, Tori Kropp has the answers. In The Joy of Pregnancy, she tells you everything you need to know to have a happy, healthy pregnancy—without overwhelming you.
Book Details
Author(s): Tori Kropp
Format(s): Zinio
Number of pages: 432
Link:
Read online.
Like This Post? Please Share!