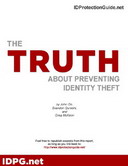 Free eBook "The Truth About Preventing Identity Theft" by John Oh, Brandon Qureshi and Greg McKeon from IDProtectionGuide.net.
Book Description
Tips to prevent and avoid identity theft:
1. Opt out of all preapproved credit card offers by calling 888.567.8688
2. Write the Direct Mail Association and ask them to remove you from the list.
3. Request a social security benefits statement by calling 1.800.772.1213
4. Pull one credit report each four months by going to annualcreditreport.com
5. Remove file sharing software immediately.
6. Never open email attachments unless you were expecting them

Continue reading for a more thorough understanding of how these quick tips can help save you a lot of trouble!
Contents
What Specific Types of Information Identity Thieves Look For
How To Protect Yourself On Social Networks like Facebook
How To Protect Yourself in Your Home, at Work, and Online
How To Check Your Credit Report For Free
How To Set Strong Passwords
Learn The Best Way To Detect if Identity Theft Has Occurred
What To Do If You're a Victim
How To Repair Your Credit After Identity Theft
Book details
Author(s): John Oh, Brandon Qureshi and Greg McKeon
Format(s): PDF
File size: 237 KB
Number of pages: 30
Link:
Download.
Like This Post? Please Share!