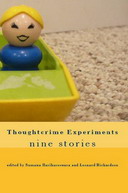 Download science fiction short story collection "Thoughtcrime Experiments" in multiple formats.
Book Description
Welcome to the Thoughtcrime Experiments anthology. Our aim was to find mind-breakingly good science fiction/fantasy stories that other editors had rejected, and release them into the commons for readers to enjoy. My co-editor Leonard writes extensively on our methodology and aims in Appendix A, but the short version is: we did it. Here it is.

There isn't a theme, really, just "what we like." It turns out that we like political satire and family drama and detective thrillers and fables and fable deconstructions and the mysteries of debugging. It's all good stuff and we hope you like it.

We received many awesome submissions. You're just seeing a fraction of them because we couldn't publish them all. Appendix A is a step-by-step guide showing you how you can do it too, with a few thousand dollars and some sweat.
Contents
Gaia's Strange Seedlike Brood (Homage to Lynn Margulis) — art by Patrick Farley
Introduction by Sumana Harihareswara
Pirate vs. Alien — art by Erin Ptah
Welcome to the Federation — story by Mark Onspaugh
Jump Space — story by Mary Anne Mohanraj
The Last Christmas of Mrs. Claus — story by Alex Wilson
Times Square — art by David Kelmer
Qubit Slip — story by William Highsmith
Daisy — story by Andrew Willett
The Ambassador's Staff — story by Sherry D. Ramsey
Bio Break — art by Brittany Hague
Goldenseed — story by Therese Arkenberg
Single-Bit Error — story by Ken Liu
Friar Garden, Mister Samuel, and the Jilly Jally Butter Mints — story by Carole Lanham
Robot v. Ninjas — art by Marc Scheff
Book Details
Author(s): Sumana Harihareswara and Leonard Richardson.
Format(s): PDF (1.75 MB), HTML, ePub, Mobi
Number of pages: 178
Link:
Download.
Like This Post? Please Share!