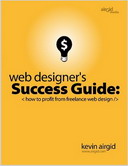 You can download the "Web Designer's Success Guide: How to profit from freelance web design" by Kevin Airgid for free in pdf format.
Book Description
Web Designer's Success Guide is the definitive guide to starting your own freelance Web design business. In this book he gives designers step-by-step instructions on how to achieve the following:
Contents
Transition from full-time to self-employment
Freelance on the side to make additional income
Find new clients and keep them coming back for more
Market your freelance business
Manage your projects professionally
Price your services appropriately
Book Details
Author(s): Kevin Airgid
Format(s): PDF (4.02 MB)
Number of pages: 81
Link:
Download.
Like This Post? Please Share!