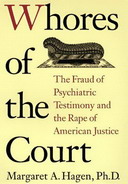 Free eBook "Whores of the Court: The Fraud of Psychiatric Testimony and the Rape of American Justice" by Margaret A. Hagen.
Book Description
In this provocative and well-researched book, Margaret Hagen, Ph.D, reveals how expert psychological testimony is a total fraud, showing how the courts have increasingly embraced not a cutting-edge science but, instead, a discipline that represents a terrifying retreat into fantasy and hearsay; a discipline propelled by powerful propaganda, arrogance, and greed.
Contents
Psychologists As De Facto Triers-Of-Fact In Our Justice System
Psychopathological Science
Three Kinds of Liars
Learning to Read Tea Leaves
Getting Away With Murder
Music Theory for Wife Killers
Construction of the Psychological Child
In the Best Interests of the Child
Remembrance of Things Past
Four Hundred Ways to Avoid Responsibility
Four Rest for the Wary
Book Details
Author(s): Margaret A. Hagen
Format(s): PDF (2.17 MB)
Number of pages: 313
Link:
Download.
Like This Post? Please Share!