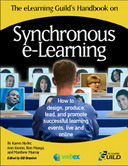 The eLearning Guild's Handbook on Synchronous e-Learning by is intended for anyone who wants to produce, lead, or promote live, interactive learning events on the Web.
Contents
Introduction to Synchronous e-Learning
How to Design for the Virtual Classroom
Preliminary Planning for Your Event
Setting Up for Production
Wrapping Up and Following Up
Marketing Internal Synchronous Online Events
Book Details
Like This Post? Please Share!