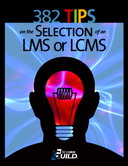 382 Tips on the Selection of an LMS or LCMS by The eLearning Guild is an awesome collection of tips from hundreds of your professional colleagues. These tips will help you navigate the LMS minefield, streamline your selection process, and help you save money! Nowhere will you find a more comprehensive set of tips that you can use to improve your LMS and LCMS selection efforts.
Contents
Comprehensive tips for LMS selection
Tips for matching features to business needs
Tips for LMS review and evaluation procedures or process
Tips for matching LMSs to users
Tips for matching LMS features to business objectives
Tips for obtaining stakeholder involvement and support
Tips for managing vendor involvement
Book Details
Like This Post? Please Share!