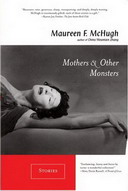 Free eBook "Mothers and Other Monsters" by Maureen F. McHugh from Small Beer Press. Now, in her luminous, long-awaited debut collection, award-winning novelist Maureen F. McHugh wryly and delicately examines the impacts of social and technological shifts on families.
Book Description
Using beautiful, deceptively simple prose, she illuminates the relationship between parents and children and the expected and unexpected chasms that open between generations.
Contents
Ancestor Money
In the Air
The Cost to Be Wise
The Lincoln Train
Interview: On Any Given Day
Oversite
Wicked
Laika Comes Back Safe
Presence
Eight-Legged Story
The Beast
Nekropolis
Frankenstein's Daughter
Book Details
Author(s): Maureen F. McHugh
Format(s): PDF (2.08 MB), HTML, Text, RTF, PRC
Number of pages: 198
Link:
Download.
Like This Post? Please Share!