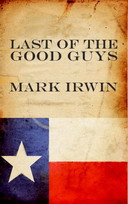 Download "Last of the Good Guys" by Mark Irwin as a free ebook in pdf format.
Book Description
Murder, shipwrecks, running from the law and a beautiful woman. This is the world of Bobby Rafferty. Bobby Rafferty has escaped with his daughter from unjust Canadian custody and fled to a safe haven in Mexico. Once there, he finds work with unscrupulous marine salvagers and unwittingly becomes an accomplice to the murder of a Lloyds ship inspector. He is left for dead but survives and returns to seek revenge as well as the monies owed to him. During his pursuit of a psychotic named Howie Morgan he finds himself inadvertently paired with a beautiful woman, Rachel, who has come seeking justice for her brother, the murdered inspector. In their search for the dangerous and bizarre Howie Morgan Rachel and Bobby team up with a cast of unsavory and fascinating characters. This fast-paced thriller culminating in the sultry sun-baked Texan coast is a remarkable debut novel by Mark Irwin.
Book Details
Author(s): Mark Irwin
Format(s): PDF (705 KB)
Number of pages: 283
Link:
Download.
Like This Post? Please Share!