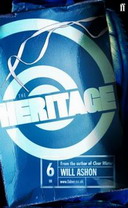 Will Ashon is offering his new novel "The Heritage" as a free pdf download from his blog.
Book Description
So, the good burghers of Faber & Faber have decided against publishing a mass-market paperback edition of "The Heritage".
Anyway, as the only way left to me to build any sort of a readership for what I think is a pretty good book (not a great book by any means, but not as bad as a lot of the shit out there), I'm posting it here for you to download.
Book Details
Author(s): Will Ashon
Format(s): PDF (853.54 KB)
Number of pages: 352
Link:
Download.
Like This Post? Please Share!