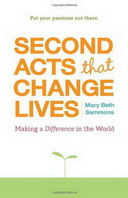 Read "Second Acts That Change Lives: Making a Difference in the World", written by Mary Beth Sammons online for free.
Book Description
The book offers a collection of honest and inspiring stories delving into the lives of a community of mid-life trailblazers who wanted to make changes in their lives and found that as they reached inward for the strength to change, almost unanimously reached out to share their better self, their skills, their talents to make the world a better place.
Contents
Wake Up! Life's Half Over!
But What Now?
Begin Again
Reconnect with the Source of Your Creative Spirit
Dream
Identify the Next Steps
Find Your Personal Best
Put Your Passions Out There
Become a Little Engine that Could
Stay Focused
Make the Change You Want to See in the World
Book Details
Author(s): Mary Beth Sammons
Format(s): HTML
Number of pages: –
Link:
Read online.
Like This Post? Please Share!