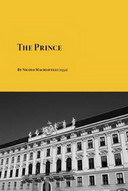 Political treatise, "The Prince", by Niccolò Machiavelli can be downloaded in pdf format for free from Planet eBook.
Book Description
The Prince is a political treatise by the Florentine public servant and political theorist Niccolò Machiavelli. Originally called De Principatibus (About Principalities), it was written in 1513, but not published until 1532, five years after Machiavelli's death. The treatise is not representative of the work published during his lifetime, but it is the most remembered, and the work responsible for bringing "Machiavellian" into wide usage as a pejorative term.
Book Details
Author(s): Nicolo Machiavelli
Format(s): PDF (859 KB)
Number of pages: 194
Link:
Download.
Like This Post? Please Share!