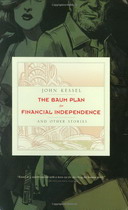 Download "The Baum Plan for Financial Independence: and Other Stories" by John Kessel for free from Small Beer Press. John Kessel and Small Beer Press have made it available as a free download in various completely open formats with no Digital Rights Management (DRM) strings attached.
Book Description
John Kessel, ever at the forefront of fiction, mashes up Pride and Prejudice and Frankenstein and comes up with a huge win: "Pride and Prometheus," which received the Nebula and Shirley Jackson awards and was nominated for many others. The fourteen stories in this astonishing, long-awaited collection intersect imaginatively with literary classics (The Wizard of Oz, Flannery O'Connor) and history. The Baum Plan also includes Kessel's modern classic "Lunar Quartet" sequence about life on the moon.
Contents
The Baum Plan for Financial Independence
Every Angel is Terrifying
Downtown
The Last American
The Invisible Empire
A Lunar Quartet
The Snake Girl
It's All True
The Red Phone
Powerless
Pride and Prometheus
Book Details
Author(s): John Kessel
Format(s): PDF (1.27 MB), HTML, Text, RTF, PRC, PDB
Number of pages: 347
Link:
Download.
Like This Post? Please Share!